Fostering




Recycle-A-Bull Bully Breed Rescue is a foster based rescue in the Clay and Syracuse, NY area.
We do not have a kennel where the dogs are housed.
Our dogs are placed in responsible loving foster homes until they are adopted! The benefits of a foster based rescue are huge! Our dogs learn to interact with other dogs, cats and kids while in their foster homes, which helps to prepare them for their furever family!
To apply to be a foster for a homeless dog or puppy, please fill out our
Foster Application
and email it to leah@recycleabull.com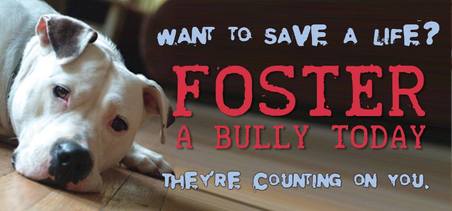 Why Foster?


* Being a foster parent means you are agreeing to take a homeless dog into your home, give them love, and care till the rescue finds them a furever home.

* You will help increase the chances of the dog being adopted!





*Foster homes provide dogs with a safe environment where they are loved and part of a family.

*As a foster parent the rescue will provide you with all of the supplies: crate, toys, collar, leash, food bowls, and cover any medical costs. The only expense the foster family has to pay for is the dog food. And if food is the only thing stopping you please let us know, we will gladly provide that as well.

Jake hanging out with his foster sister!



* Your own dog will learn more social skills

*Opening your heart and home to a dog in need will change your life for the better!