About us
Recycle-A-Bull Bully Breed Rescue was founded in 2011 by a dedicated group of volunteers who all share the same passion for the bully breed. We are excited to work together to help save lives, and find loving homes for our bully friends!
President
Stephanie is the Founder and President of Recycle-A-Bull Bully Breed Rescue Inc. She and her family live in the Clay NY area with their multiple rescue dogs, and ever changing list of foster dogs. Stephanie has been involved with rescue for over ten years fostering,transporting,teaching humane education and behavioral modification using positive reinforcement technique. Aside from her passion with animals particularly with "pit bulls" she is a full time nurse.

For general info regarding RABBBR, surrendering/adopting a dog,humane education or behavioral modification please contact Stephanie at Recycle_a_bull@yahoo.com
Vice President & Treasurer
Amanda is the Vice President of Recycle-A-Bull Bully Breed Rescue, Inc. She and her husband Joshua live in the Syracuse area with their three rescue dogs and continual flow of foster dogs. Amanda and Joshua have been working with rescues for four years after rescuing their first dog, Teddy, at their local SPCA. Teddy has been the inspiration for their passion and devotion to rescue animals. Amanda has worked with many rescues and animal organizations in the Syracuse area, serving as an Events and Volunteer Coordinator. Amanda is currently working on her certification to become a dog trainer through Animal Behavior College and has a desire to provided outreach and education to the public and local animal shelters. Amanda also works as a Director of a local non-profit daycare center.
Joshua is the Treasurer of Recycle-A-Bull Bully Breed Rescue, Inc. and also works for the local bus company as the CAD/AVL System Coordinator.

Please contact Amanda at amandavp@recycleabull.com for general information, adoptions, surrendering a dog and outreach.
Please contact Joshua at Joshua@recycleabull.com for donations and fundraising


Co-Founder & Committee Coordinator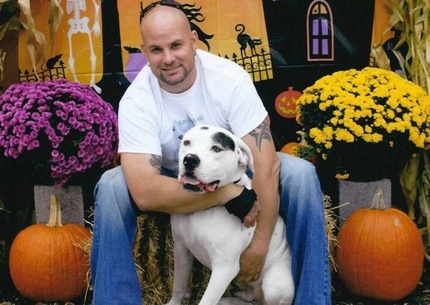 Dan Wise is the co founder and committee coordinator for Recycle-A-Bull Bully Breed Rescue. In April of 2007 Dan rescued his first pitbull/rottie mix. He watched this starved neglected pup grow into a healthy loving family member. From that day forward he knew that rescue would forever be part of his life.
Foster & Volunteer Coordinator
Kim is the foster and volunteer coordinator of Recycle-A-Bull Bully Breed Rescue. She lives in Camillus with her two rescued pit bulls named Mason and Bentley. She always had a love for animals, but it was when she adopted her first pit bull mix Bentley her true passion for pit bulls came alive. Living with two pit bulls she knows first hand what loyal, smart, affectionate, and amazing dogs they are. She has several years of experience in rescue, and humane education teaching children and adults the responsibility of pet ownership, and disproving the myths about pit bulls.

Please contact Kim if you would like to volunteer or foster at kim@recycleabull.com
Events Coordinator
Alanna is the event coordinator for Recycle-A-Bull Bully Breed Rescue and a foster parent. She was inspired to become part of the rescue after the passing of her first and only SPCA pup. Her love of animals has been the driving force behind her goals and aspirations since she was a child. Currently she is an afterschool T.A. at a Syracuse city school and full time student at Onondaga Community College where she is studying criminal justice. After obtaining her degree she hopes to go onto a four-year school or attend the National Animal Control Academy. Her dream is to work for The Humane Society as an animal cruelty investigator.

Please contact Alanna for event information or scheduling at Alanna@recycleabull.com