President & Founder

Stephanie is the Founder and President of Recycle-A-Bull Bully Breed Rescue Inc. She and her family live in the Clay, NY area with their multiple rescue dogs and ever changing list of foster dogs. Stephanie has been involved with rescue for over 12 years; through fostering, transporting, teaching humane education and behavioral modification using positive reinforcement technique. Aside from her passion with animals, particularly with "pit bulls," she is a full time nurse. Stephanie also runs her training business, A Positive Difference - Training and Behavior Modification. Visit her website at www.apositivedifferencetraining.com


For general info regarding RABBBR, surrendering a dog, adoptions, or behavioral modification please contact Stephanie at
Recycle_a_bull@yahoo.com
---
Committee Coordinator & Co-Founder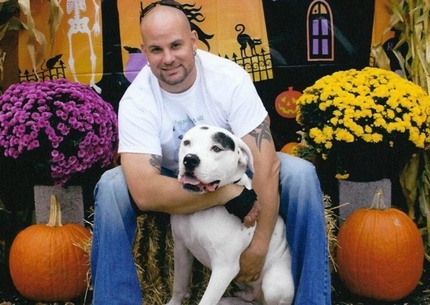 Dan is the co-founder and committee coordinator for Recycle-A-Bull Bully Breed Rescue. In April of 2007 Dan rescued his first pit bull/rottweiler mix. He watched this starved neglected pup grow into a healthy loving family member. From that day forward he knew that rescue would forever be part of his life.



Contact Dan directly: dan@recycleabull.com

Secretary
---

Shawna always had dogs growing up, and has been an avid animal lover her whole life. She has always felt strongly about the unfair representation of bully breeds by the public and the media, so advocating for such misunderstood dogs just made sense. She got involved with rescue back in 2014 and has volunteered, fostered and done educational outreach work with local schools on behalf of the RABBBR. She now serves on the Board of Directors as Secretary.
Shawna lives in Marcellus with her husband, daughter, her pit bull Annabelle, her yellow lab Beau, and two kitties. In addition to her position with RABBBR, Shawna works full time as a paralegal.



Events Committee

To contact the event committee please email events@recycleabull.com


Angela is an event coordinator with the team. She always had a dog growing up, but none of them were bullies. When she adopted her first Pit Bull mix, Orion, she knew this would be the only breed she would ever own again. Their loyalty, silliness, and love for life stole her heart. But, she also realized how wrong people's perception of the Bully breeds are and how many are in rescue so she wanted to help. She started volunteering and fostering with the rescue and eventually became a board member. She lives in Hastings, NY with her 2 bully mixes, a pug, husband Josh and son Jaxon.
Contact Angela directly:
angela@recycleabull.com
Jaime is also one of the event coordinators for the rescue. She has always had a passion for animals, especially dogs, but didn't know what direction that would take her in until she discovered Recycle-A-Bull. She quickly fell in love with the rescue's mission, and the work that comes along with it. Through fostering, she has learned what truly stunning creatures pit bulls actually are! Jaime lives in Kirkville, NY with her three hound dogs.
Contact Jaime directly:
Jaime@recycleabull.com
---
Volunteer Coordinator
Kim is the volunteer coordinator of Recycle-A-Bull Bully Breed Rescue. She lives in Camillus with her rescued pit bull Bentley and husband Mike. She always had a love for animals, but it was when she adopted her first pit bull mix Bentley her true passion for pit bulls came alive. When her one pit bull Mason passed away from cancer, she promised him she would continue to fight for this amazing breed! Having lived with two pit bulls she knows first hand what loyal, smart, affectionate, and amazing dogs they are. She has several years of experience in shelter work, and humane education teaching children and adults the responsibility of pet ownership, and disproving the myths about pit bulls.





Contact Kim directly: kim@recycleabull.com
Foster Coordinator
Leah grew up with dogs and has always had a passion for dogs. She adopted Karl from RABBBR in 2015 and fell in love with the rescues mission, training techniques, and support system when adopting from RABBBR. She immediately knew she wanted to be involved in the rescue.
She started fostering, volunteering and eventually became part of the board as the Foster Coordinator as well as one of the trainers.
Leah is Owner/Operator of her Dog Training, Walking & Sitting Business, she lives in Syracuse with her dogs Tucker, RABBBR Alumni Karl & Keno, and multiple foster dogs.

​Contact Leah directly: leah@recycleabull.com
Fundraising Committee

Have fundraising questions or ideas please email: fundraising@recycleabull.com
Tobie first joined RABBBR as a foster when we took in 1 week old orphaned puppies that needed somewhere to stay. She opened her home to these pups, and worked to make sure they had everything they need to to survive without their mom. She continues to foster for us, and is now also our fundraising coordinator. She lives at home with her husband, RABBBR alumni Bab's, two cats and her son.
Contact Tobie directly: tobie
@recycleabull.com
Jenny adopted her first pit bull in October of 2011, and she knew her life had changed for the better. In Bentley Jenny had found a passion for the breed and advocating for all bully breeds. Jenny became a member of Recycle-A-Bull Bully Breed Rescue in July 2016 and assists with public relations and fundraising. Jenny is now the proud owner of not only Bentley but her own RABBBR alumni Orielles. Aside from her passion with dogs, Jenny is a full time Medicaid Service Coordinator for persons with developmental disabilities.
​
Contact Jenny directly:
jenny@recycleabull.com



PLEASE NOTE:



Once you have emailed us, please allow us up to 48 hours to return your email.

Our rescue is run on a volunteer basis and all of us involved have full-time jobs and families in addition to the rescue, so do not be alarmed if you do not hear from us right away. We will get back to you, promise!